Nikkor lenses with vibration reduction
Introduction
Photographers often have problems in keeping the camera + lens and/or other accessories in a stable position. We all know that vibrations may ruin a picture. Vibrations made by ourselves (heartbeat, breathing, body movements, etc.) or by the equipment we use, because it is too heavy or there simply isn´t enough light to set at high shutter speeds. There is a golden rule: focal length = minimum shutter speed. So using a lens with a focal length of 100mm. we need to set at least a shutter speed of 1/100 sec. We may look for a support of the equipment like a wall, railing or tripod. Up to focal lengths of 200 mm. we may succeed in producing a sharp image, but using lenses with longer focal lengths or working in dim light we´ll have a problem. Some decades ago several techniques were invented to eliminate yawing and pitching movements. Nikon was a bit late (in 2001) with the introduction of cameras and lenses with a vibration reduction system. Its rival Canon Camera Co. already had a nice bunch of lenses when Nikon introduced its first VR-lens. But Nikon is catching up on its competitors quickly and nowadays Nikon offers a wide range of very nice and needle-sharp VR-lenses. In many Coolpix digital rangefinder cameras VR is integrated as well. And.........in all honesty I am compelled to say that Nikon introduced in 1994 the first compact camera ever with a VR-zoom lens: the sophisticated and very pricey Nikon Zoom 700VR (in the USA: 105VR).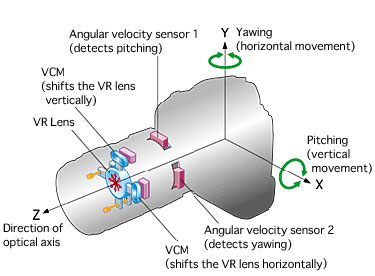 As shown above in the middle of a lens a certain element is surrounded by sensors and little motors. When the sensors are determining some movements the motors are moving the elements in the opposite direction to undo all vibrations. All these techniques make it possible to handheld camera and lenses at low shutter speeds. Disadvantage is that those VR-lenses are using the power of a camera, which makes it necessary to carry extra batteries.
Warning!!
When mounting a VR-lens on a camera body the movable lens elements are locked. As soon as you press the shutter release button the auto focus will work and the sensors and lens motors will do their job: vibration reduction. When you have made a picture and remove your finger from the release button you may hear a soft click in the lens, indicating that the movable elements inside the lens are locked. If you remove a VR-lens from a camera before you've heard that soft click those lens elements may not be locked. And that may cause serious (and expensive) damage to the VR-system!! So be careful!
Important!!
Most Coolpix cameras with integrated VR-features and the following VR-lenses can be used on a tripod but the vibration reduction feature should be put ´off´: Coolpix 8800, AF-S VR 24-120mm/3.5-5.6 G, AF-S VR 70-200mm/2.8 G and AF-VR 80-400mm/4.5-5.6. All other VR-lenses may be mounted on a tripod with VR ´on´. When using a VR-lens on a monopod VR should be switched ´on´. Most lenses have at least two VR-modes. Mode one is when you are standing still, mode two is for those who are moving (riding or flying etc.). Below you'll see (from top down) the buttons to change from manual to auto focus, to limit the focusing (to increase focusing speed at long distances), ON/OFF button and 'normal' and 'active' button: the two VR-modes mentioned before.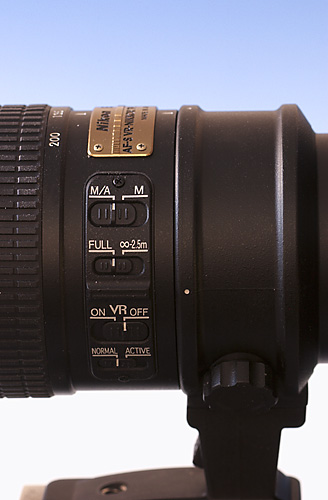 All G-lenses mentioned below do not have an aperture ring. All lenses with a long focal length come with a tripod rotating connector/collar, a zoom limiter and a button to switch from AF (auto focus) to MF (manual focus). All lenses mentioned here can be used with the Nikon TC-14E II, TC-17E II and TC-20E II teleconverters. On the other hand not all Nikon SLR film cameras may benefit from the vibration reduction feature. The Nikon F-75, F-80, F-100, F5, F6, and all digital SLR cameras may take an AF-S VR-lens (except the older VR-Nikkor 80-400mm.). The Nikon Pronea 6i/600i may take the latter lens as well. Please study the manual of the camera.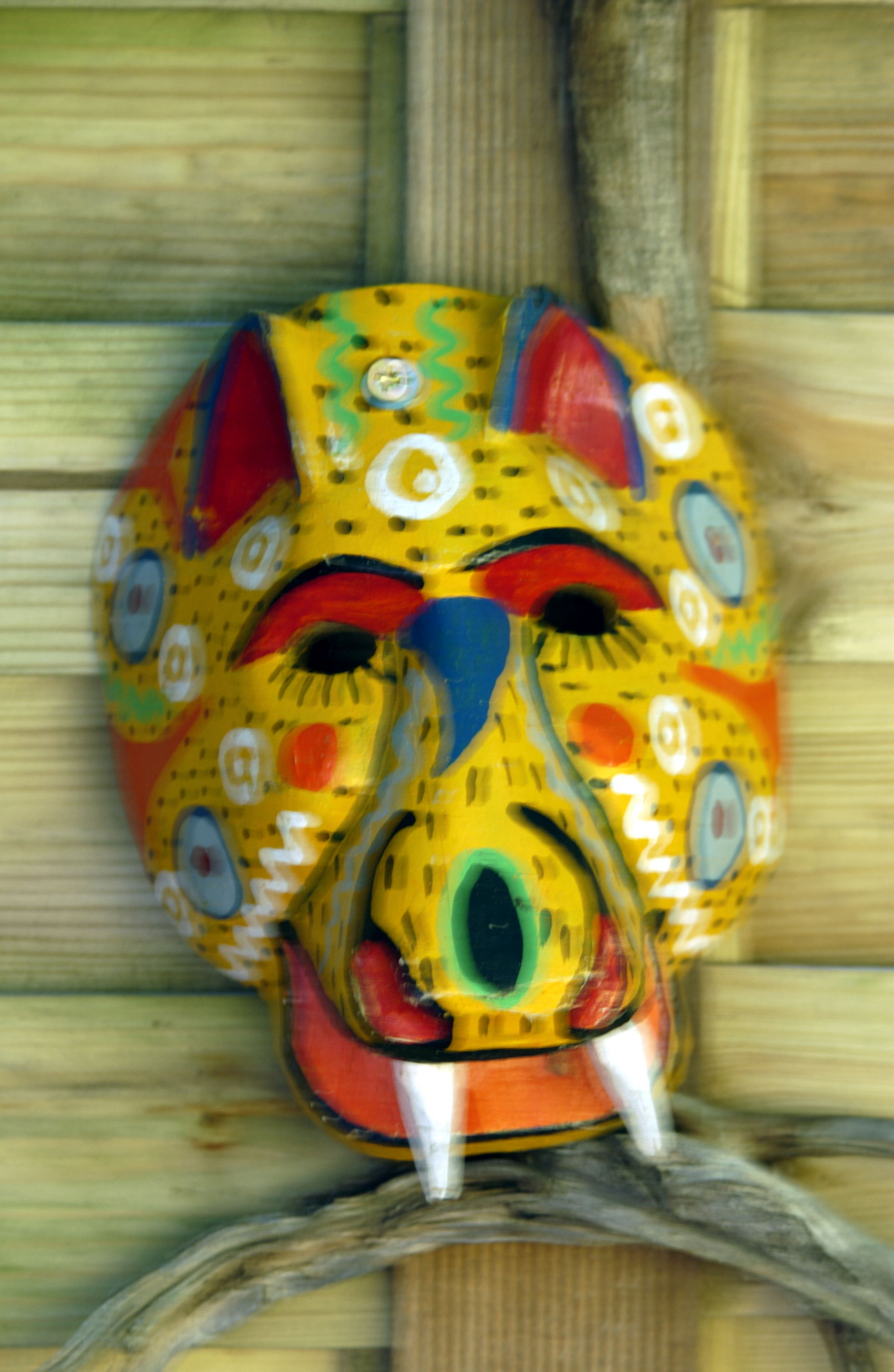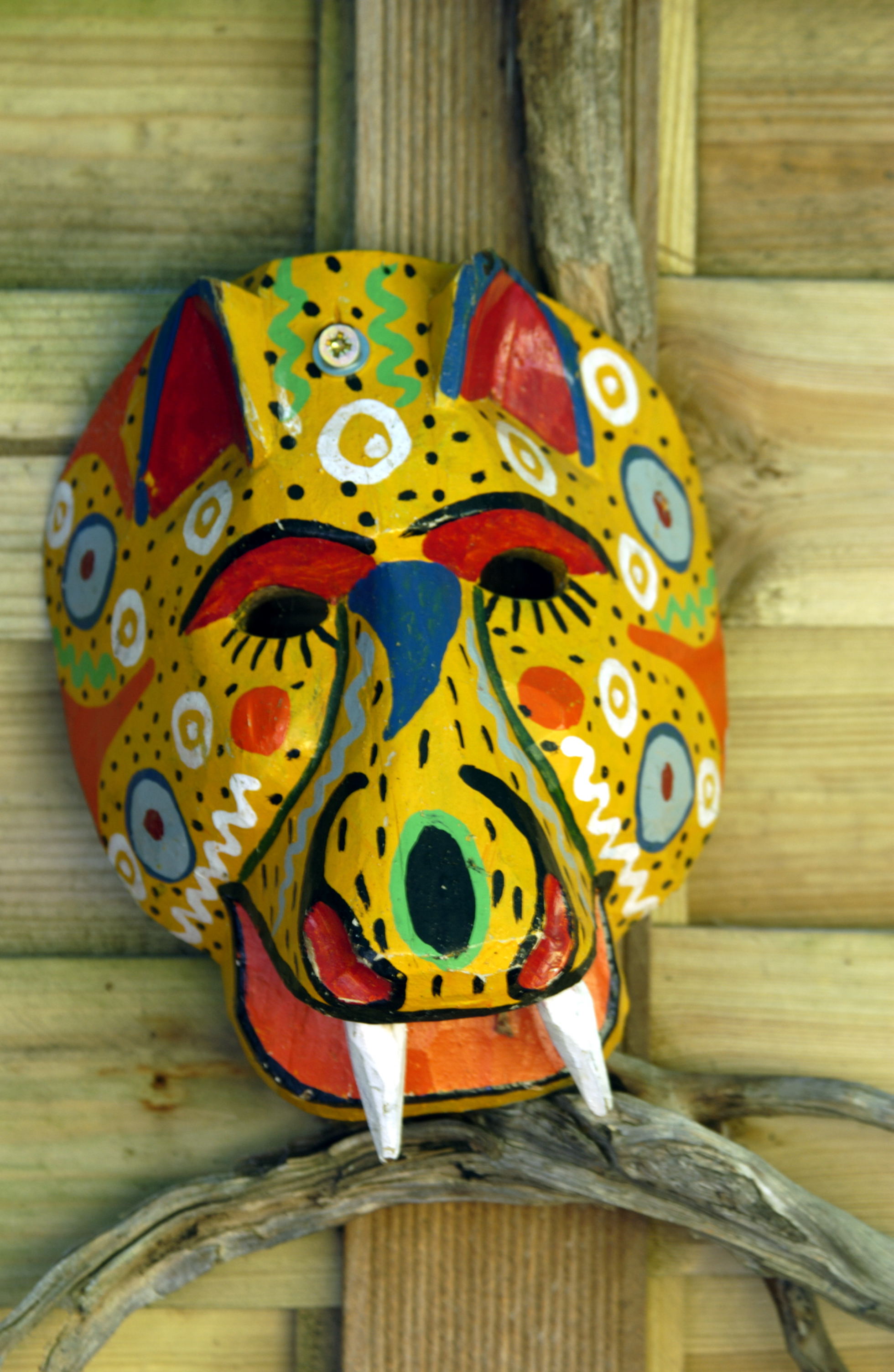 Left without and right with VR: both pictures were taken handheld with a Nikon D1X + VR-Nikkor 4.5-5.6/80-400 mm. at 1/8 sec. at 5/145 mm.
Lens reviews