Nikon digital single lens reflex cameras
Nikon D1-series - Nikon D2-series - Nikon D3-series
for technical specifications of these cameras please click here
The first Nikon digi-SLR, developed and made by Nikon itself - was introduced in 1999.
Nikon D1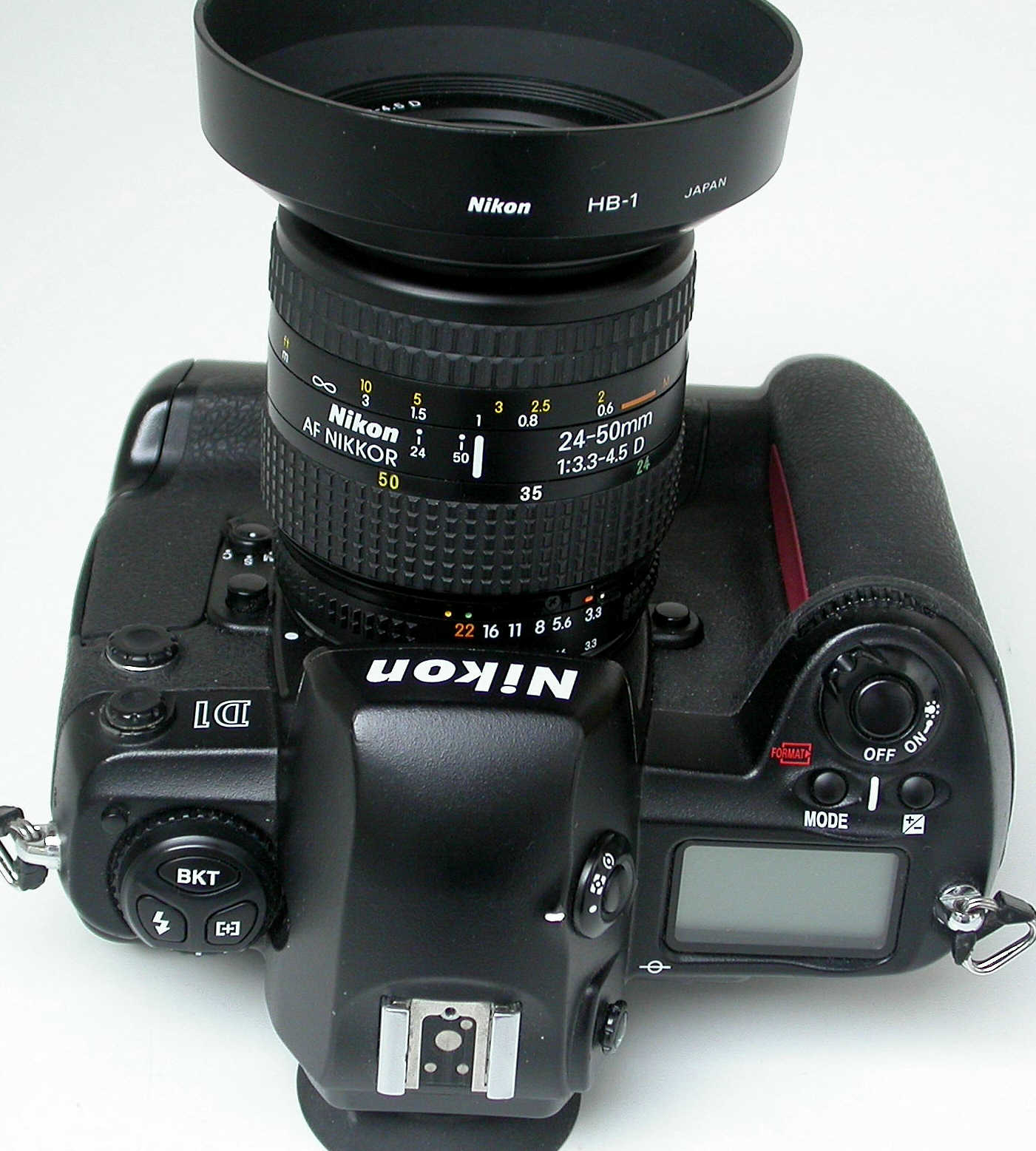 In October 1999 Nikon introduced this very nice digi-SLR, based on the body of the Nikon F5 and F-100. If you would be able to have a look inside the camera you would see the film compartment and space for the take-up spool for the film left intact. The CCD-sensor - with the size of an APS-frame (18x24mm.), called DX - has a maximum resolution of 2.66 Megapixels (Mp), although a Nikon engineer stated in an interview that the CCD has more than 10 Mp, but not all are used, in order to avoid - among others - so called noise in the images. Special features are the fast 1/16,000 sec. shutter, 3D-Metering, AI-lens coupler, short shutter lag (60 ms.) and fast (4.5 fps) shooting option.
This sturdy camera was meant for the professional photographer, who already had an arsenal of Nikkors and needed a rapid camera with a image resolution enough for a good print in his newspaper. After all nearly all pictures in newspapers and magazines are printed in 300 dpi, so more pixels aren´t really needed. Serial numbers from 5000001. Some 40,000 cameras were sold.

Serial number of the first Nikon D1 sold to the public in 1999!
Nikon D1X - D1H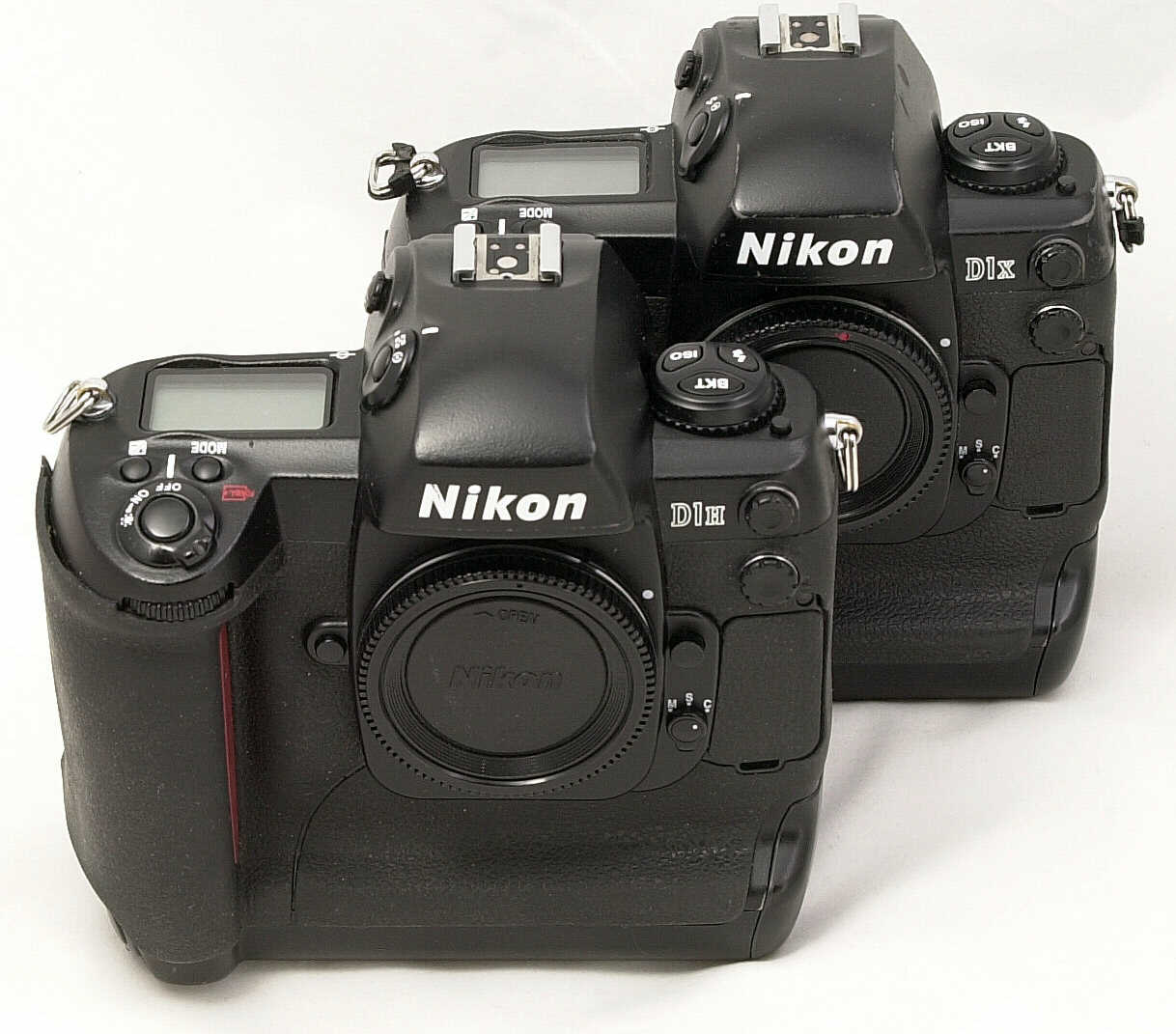 Nikon D1H + Nikon D1X
In summer 2001 these two cameras, almost identical to the Nikon D1, were introduced. Main difference with the Nikon D1 is the higher resolution of the CCD in the D1X (5.3 Mp) and the faster shooting option of the D1H: 5 fps. at a total burst of 40 frames. The CCD resolution of the D1H is the same as in the D1. The body and most software of these two newer ´sisters´ of the D1 are identical. Luckily a lot of accessories can be used, even the batteries (and thus the charger) and the net adapter! The D1X however eats up batteries, especially when the camera has his software update, which improves the burst rate and extends the internal memory buffer. The standard EN-4 battery might be empty after 50 shots! On internet several battery replacements with more power can be found. All three cameras are using Compact Flash memory cards and IBM mini memory drives. The functions now can be seen and set on the large screen on the back. Serial numbers from 5100001 (D1X) and 5200001 (D1H).
The manuals of both cameras are - also luckily - almost identical. Custom settings too, except custom setting 25 (page 176) is one rare difference, as it deals with the shooting speed.
Second hand cameras are offered worldwide for relatively low prices, if one compare them with the prices when new (more than 6,000 Euro!). Be careful and check/inspect the LCD screens, mirror and the CCD sensor. The latter can be checked by taking a picture against a white background or just into the air. Dust and damages will appear as dark spots in the image, which should be enlarged in Nikon View (= Nikon´s software to transfer and manage images from a CF-card to a PC). Attention should be paid to the CF-card holder (pins inside) and all other connectors (including battery chamber).
See for a small colour test of the Nikon D1, D1X and D1H have a look here
Nikon D2H - D2Hs - D2X - D2Xs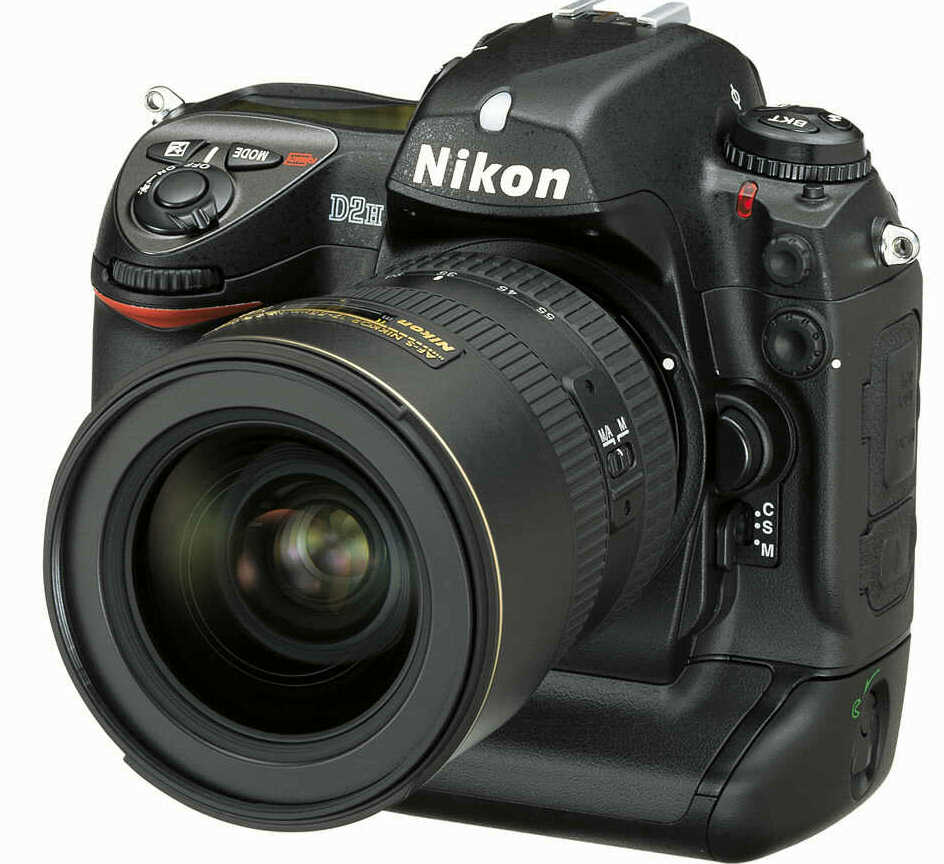 In Summer 2003 the first successor of the D1-series - the Nikon D2H - was introduced. It was obvious that after a Nikon D2H a Nikon D2X would be introduced. Why both cameras weren´t introduced simultaneously has never been published. Some 12 months (mid 2004) later the D2X came on the market, followed by an upgraded version - as Nikon D2Xs - mid 2006.
The new series of Nikon professional digi-SLR´s weren´t just upgrades of the D1-series. Although the camera bodies have more or less the same shape, internally they are very different. Nikon introduced a brand new, self-developed sensor (JFET-LBCast) on the D2H with 4.1 Mp. and a CMOS-sensor on the D2X with 12.4 Mp. The D2H was for fast shooting, the D2X for high resolution. The last version, the Nikon D2Xs should have (and has) both features. Most functions are faster and better, LCD screens are larger, but batteries are different (so is the charger + net adapter) and maximum shutter speeds went down from 1/16000 sec. to 1/8000, which is still incredibly fast, though. The upgraded version of the D2H - Nikon D2Hs - was introduced in February 2005. All four cameras are clearly much better then their ancestors. Second hand cameras, especially the D2X(s), are very much wanted and thus relatively expensive.
For technical specifications see the matrix
Nikon D3 - D3X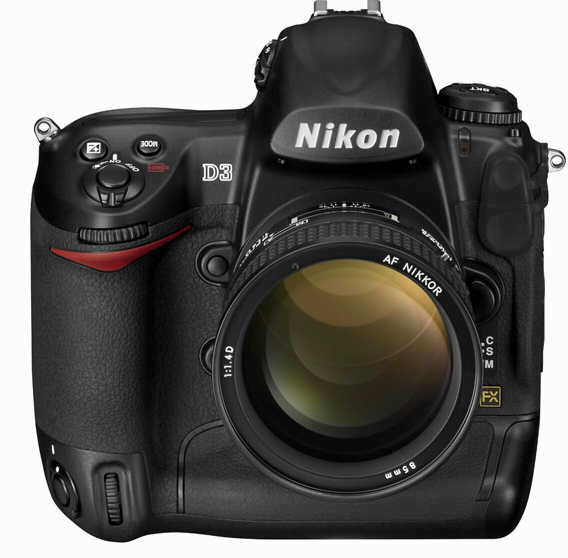 Nikon surprised the world in late 2007 with this very up-to-date ´image machine´. Nikon´s competitor and rival Canon already had a camera with full frame (35mm. frame size) sensor. Nikon always confirmed that it was examining a full frame, but denied to take one into production. ´As the market asked for it´, Nikon decided finally to introduce a FX-size (36x23.7mm.) CMOS-sensor, too. This fast camera with a nearly identical body has a FX-sensor with 12.4 Mp, thus all older MF- and AF-lenses will keep their focal length; the D1- and D2-series have a crop factor of 1.525.
For the D2- and D3-series many accessories have been made (and not only by Nikon). All versions can be connected to GPS-instruments, (wireless) to printers, laptops, remote control equipment, etc.
For technical specifications see the matrix.
All three series of professional cameras are strong work horses. They are able to resist tough handling in various weather conditions. Photographers with a lot of old Nikkor lenses (preferably the AIS- or AF-lenses) can use them on all models. Lenses with large rear lenses (Noct-Nikkor 1.2/58mm, Nikkor 1.4/85mm, etc.) may have problems with reflections between the rear lens and the sensor. Older (non-DX) flashes may not be able to perform all functions, as the sensor in the camera doesn´t reflect like a film does. DX-flashes have a built-in reflector to measure the needed dose of light. Finally all rubber body covers are coming easy off the body. For the D1-series there are spare rubbers for sale, all other models need a new door!
In general digital photography is still in its infancy. If we look at the developments of the last 10 years enormous progress has been made. Sensor production, image sharpness, color management and data processing has improved undeniably. Fighting negative side effects like banding and noise in digital images has been successful. Below a (unprocessed) picture taken with a Nikon D3 at 6400 ISO without noise reduction. An achievement which probably wouldn´t be possible with any modern 35 mm. film.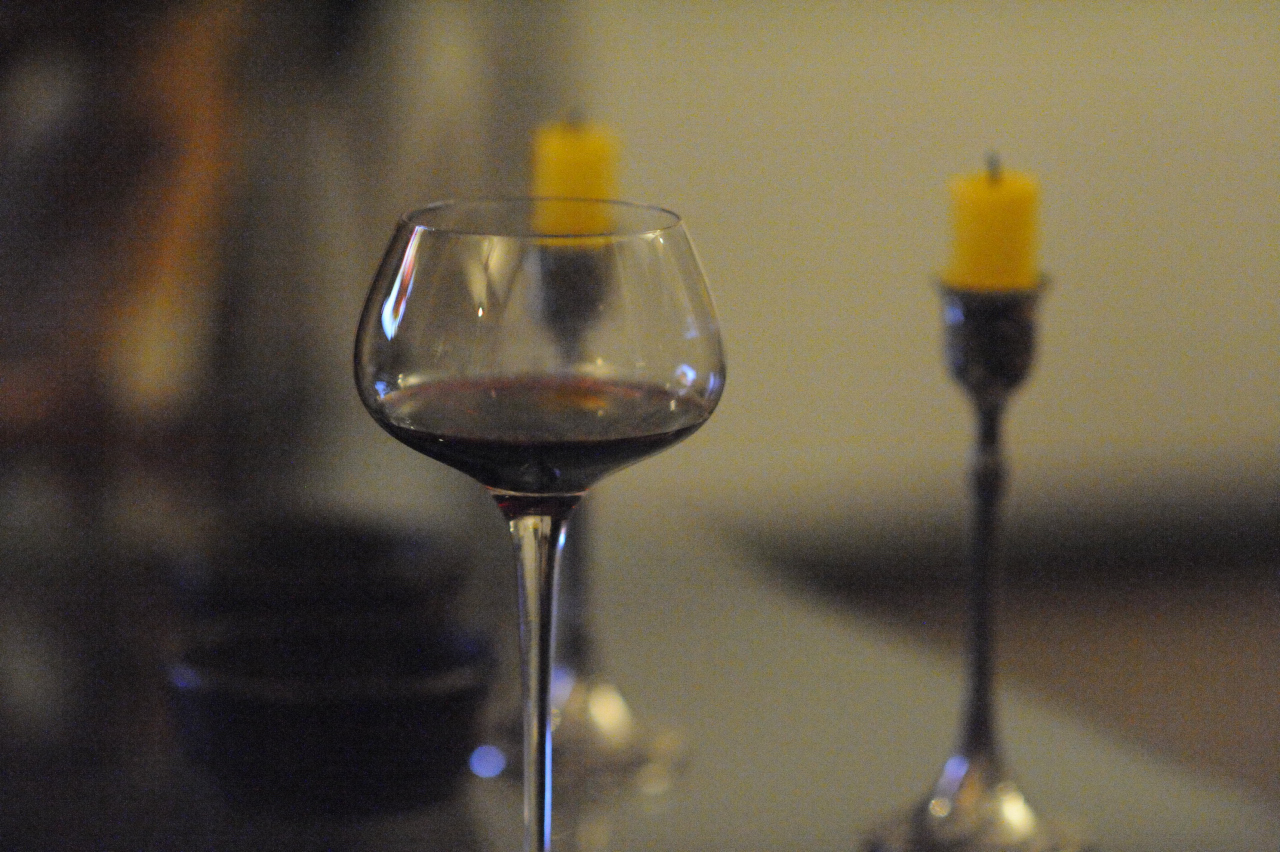 Picture taken with Nikon D3 + AF-DC-Nikkor 2/135mm. at JPEG Basic (1280x852) 8 bit, at 1/800 sec + f/2.8, aperture priority, multi-pattern metering mode and -1 exposure compensation at 6400 ISO. (courtesy Jan Prinsen)
Nikon Corporation certainly runs in front with respect to developments in digital photography. Started with the legendary Nikon F in 1959 up to the Nikon F6 in 2004 Nikon has proved to be able to create - within a period of 45 years - an almost perfect 35mm.-film single lens reflex camera. In 1999 the first digital reflex camera was introduced. The assumption that we have to wait another 45 years to see the almost perfect digital Nikon SLR is unlikely.
The series of Nikon's professional digital single lens reflex cameras consists - traditionally - of two versions: a Nikon D?X and D?H. It is therefore that Nikon introduced a Nikon D3X on December 1, 2008. Nikon wanted to introduce this flagship earlier, but had to wait for Sony - being the manufacturer of the very high resolution sensor - that introduced its flagship with the 24+ Mp. sensor at the 2008 Photokina in Germany. If there ever will be a Nikon D3H? Who knows!
The Nikon D3X has a full-frame (FX) sensor (35.9 x 24mm.) with a resolution of 24.5 Mp. A lot of features are identical to those offered by the Nikon D3, but encl. life view. ISO settings are from 100-1600 with a possibility to under- and override this by 1 EV. Colours can be saved at 16 bit depth. In full frame format the camera is able to shoot 5 fps., but in DX-crop mode it masters 7 fps.! More details of this camera in the matrix.